"Gr 4–6—Emily Soper is a 12-year-old who lives in a time of transformation. She sees big
changes coming in Washington, DC in 1908—from women's suffrage to the invention of the automobile. She is even going through a time of personal transition, as her mother and father begin pushing her to spend less time in her father's barn and more time learning to be a proper lady. Resistant to amending her ways at first, Emily begins to see that it is important to have the courage to change when her father's carriage making business is threatened by racial intolerance and the invention of the automobile. This superb work of historical fiction features a delightful protagonist and a likable cast of supporting characters. Jacobson's writing is simple, elegant, and clever. The story's pacing helps build to an exciting conclusion, and gives a great window into an important time in American history. Using a word game between Emily and her father, Jacobson smartly weaves in vocabulary and their definitions, without taking away from the story. The back matter also features an author's note and recipes.—Amanda Augsburger, Moline Public Library, IL" School Library Journal 09/01/2014
"Resemblances to To Kill a Mockingbird are strong, especially during a tea party hosted by Emily's mother. A nice touch: Throughout much of the book, Papa teaches Emily-and vicariously, readers-new vocabulary words. The strength of the text lies in Jacobson's ability to evoke a different era and to endear readers to the protagonist. The prose is straightforward and well-researched, heavily peppered with historical references and containing enough action to keep readers' attention.' – Kirkus Review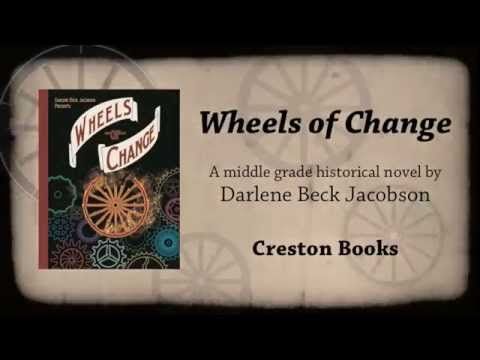 Darlene Beck Jacobson has a BA in Special Education and a Reading Specialist MA. She worked as a Speech Language Specialist with the Glassboro Public Schools in Glassboro, NJ for 20 years. When not writing books, she substitute-teaches for Pre-K and K classes in her former school district.
Beck Jacobson has loved writing since she was a girl. She wrote letters to everyone she knew and made up stories in her head. Although she never wrote to a president, she sent many letters to pop stars of the day asking for photos and autographs. Her stories have appeared in Cicada, Cricket, and other magazines. Her blog features recipes, activities, crafts and interviews with children's book authors and illustrators.
Check out her website at Darlenebeckjacobson.com.
WHEELS OF CHANGE
Trade Cloth
9781939547132
US $12.95